Rasmus

wrote:

↑

Mon Apr 29, 2019 10:26 pm

And after all i´m finding your approach on designing rather unsystematic, i would take a proven shape like freegal and analyse what i liked or did´nt , think for what conditions my next board should perform best and than make refinements. But everyone is different.
This is not really how it works, most of my shapes are developed over very long times. In fact, in my custom and proto program I have at least ten different lines of development going on all the time and I review and refine all those shapes. Even the original Fly shape that I developed 2011 and that was in production 2012 is still "alive" and it was not long ago I made some new variants of that shape as a custom to someone. Once in a while I'll develop something new from (more or less) scratch and if the shape works I'll make variants and refinements of it later. Most boards that end up in the production program comes from such a line of development and often they were not developed to be production boards from the beginning but just ended up good candidates after enough people had liked them as customs or protos. In fact, I have noticed that my best boards are almost always developed for some particular rider rather than thought up as compromises designed to cater for a wide selection of riders.
As for the Freegal, that was a spinoff of the Frugal. The original Frugal was designed in 2012. The Frugal was thought up from scratch and it was my original short tailed board. Despite that this board being new in so many ways it only took two protos to get to the production shape and even the first one was very good. The rocker was completely new and worked right away. The first proto has a swallow and I later changed to a squash to make it a bit more attached to the water in turns. Then I slightly altered the outline curve between the feet, because on the original it was a bit hard to control the top turn between sliding and carving and a straighter outline section gives more stability, predictability and control. We had the Frugal in production 2013. The a friend wanted to work on a specific light wind wave board and after some thinking I came up with the Freegal which was a faster and easier version of the Frugal. The first version was a 100liter, but the guy loved it so we made protos at 80, 90, 100 and 110 liters and sailed them for some time and passed them around a bit. Since the Frugal was considered a bit too extreme, we decided to put the Freegal in production the next year and then we had it in production for several years. But I continued to work on the Frugal and actually made that rocker even more extreme, with even more curve in the center and a slightly flatter nose. I also refined the nose outline to be a bit sleeker. The resulting shape is still one of my favourite boards and a friend who is sailing it now thinks it is so good that it is almost cheating. But still.. a bit too much for the production market.
And in relation to this remark:
Rasmus

wrote:

↑

Mon Apr 29, 2019 10:26 pm

What I´m now understanding is that stubby boards in your view should be more like an allroundboard (also waves that need more grip threw rail length), because you insist on using them also at higher speed, not just an onshore shape. For me a rather wide planshape should be used in small waves, small waves are always slow/slower making good rail control abilities unnescesary, i would specalise more. I own 4 boards in different shapes for specific conditions, but mostly onshore, that´s why i would go for a more refined shape depending on conditions.
When I design for myself I do specialize the boards a bit. After using the Frugal (almost exclusively) for two years except for some big Maui days, I wanted to adapt the concept for higher speed wave sailing and bigger waves
So I designed the Hoogal with the same short tail, but a roundtail, a slightly extended nose and narrower width. This model was then systemtically developed through a few versions and the Limelight was in turn a spinoff from the Hoogal. So overall, to date there has been systematic development of this short tail-short nose concepts for över 7 years now
Here is a Frugal (v4) 75 and the Hoogal (v4) 75. The Hoogal is has a more drawn out nose and the widepoint 5cms back in relation to the Frugal. The Hoogal has a bit more outline curve in the back though. At 216, it is 6 cms longer than the Frugal (the tail is 2 cms longer and the nose 4cms longer).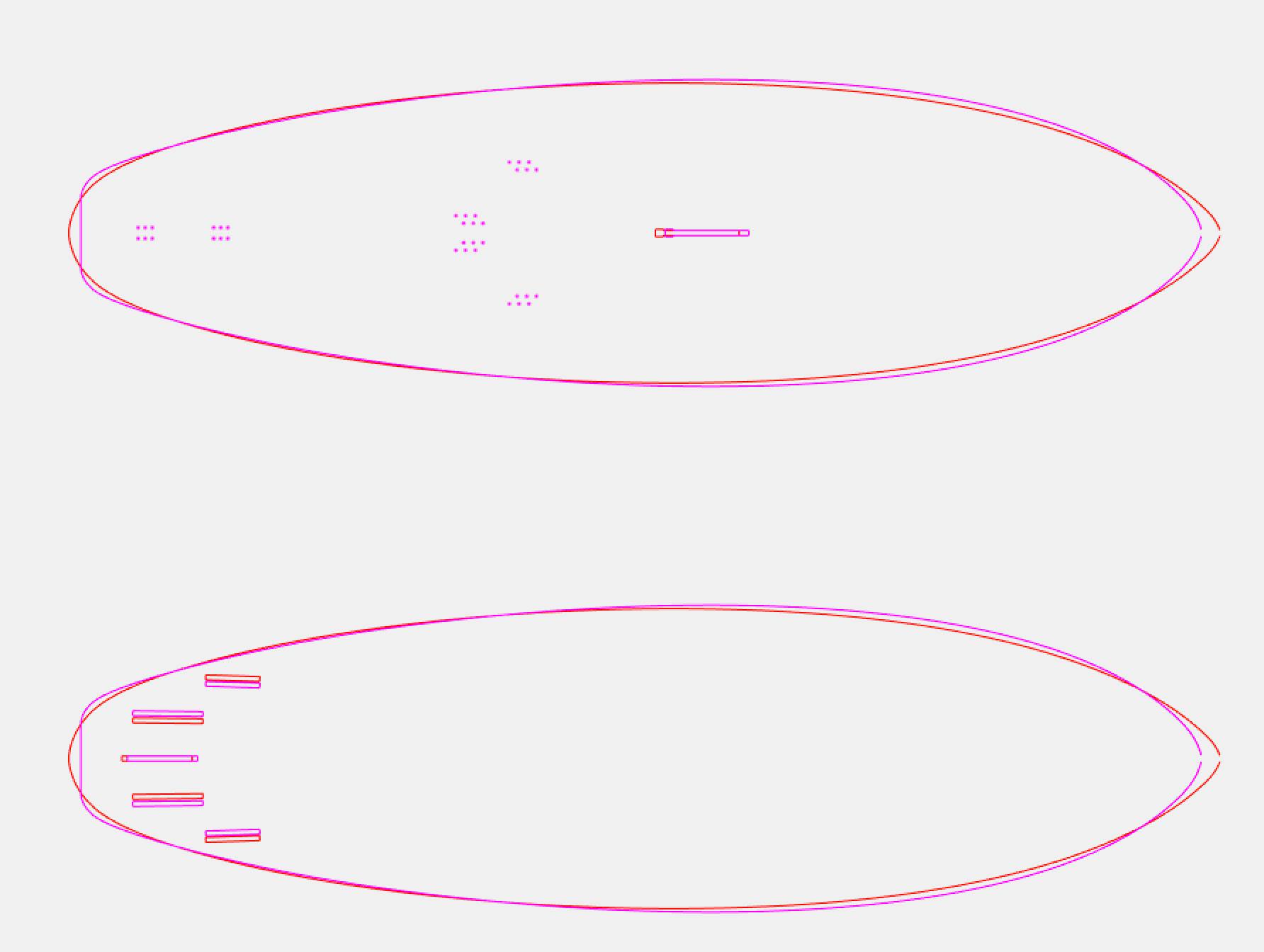 The Cortex comes from a completely different line of development and the _only_ overlap with the Frugal/Freegal/Hoogal is that I used to knowledge about the effects of short tails when deigning the Cortex. I'll save the Cortex development story for later, but the reason we replaced the Freegal with the Cortex in the production program was simply because at one point we thought the Cortex would make a better production offering. This is not being unsystematic, it's just keeping many developmental threads going as the same time.